There's a lot going on since last week's new moon AND there's an equinox in a couple of days.
Digesting all of the energy can be complex. Today's reading is short and sweet, focusing on a general theme to contemplate.
These themes are broad and will work into your life in a larger, less specific way this week.
with gratitude,
Natalie
---
The cards
From left to right, piles 1-3.
Which pile draws you in the most? No need to rush.
Breath. Listen. Feel. Then choose.
---
The crystals & stones:
1-Tiger's Eye: luck, focus and clarity, calm anxiety✨solar plexus chakra
2-Smoky Quartz: disperses fear, stress, and negativity | root chakra
3- Green Amber: tolerance, hope, balance | heart chakra
---
Hold up!
Choose a pile from the photo above before scrolling down.
.
.
.
.
.
.
.
.
.
.
Pile One
Expression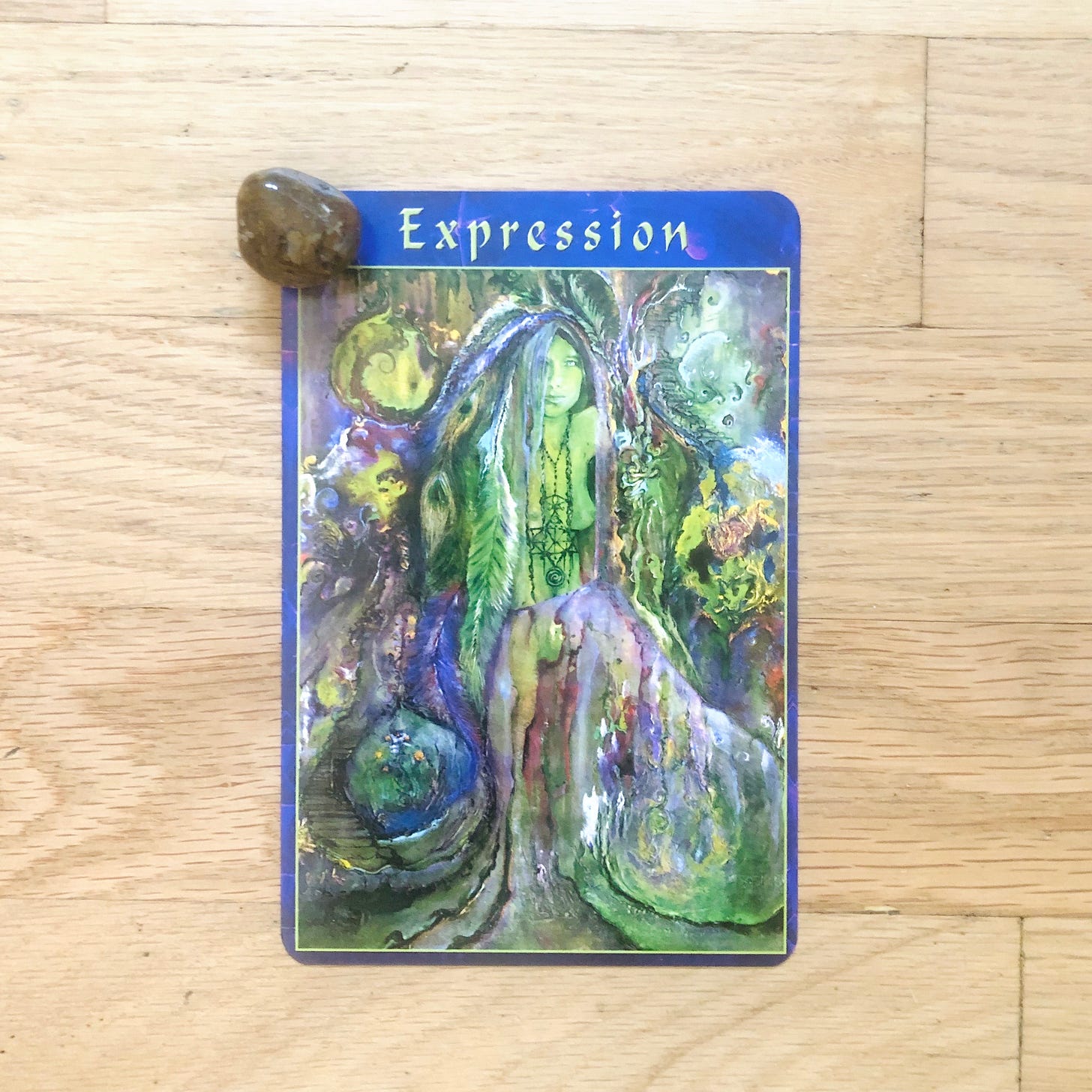 This is a beautiful card representing the creative process, especially the one natural to your nature. The tendencies you were born with, some that may have been lost as you've grown.
It's a time to share your heart, your joy, and your pain through creation.
Dance, draw, write, cook, play…anything that speaks to moving energy through you in your own unique way.
This is a chance to use your emotions to bring something forth into the world. No judgement on its quality or form, so long as it feels true for you.
If you're feeling disconnected from the muse, this energy is asking you to slow down and ask yourself: what inspires my true expression? You may not hear the answer right away, but if you ask, it will appear.
---
Pile Two
The Gift
This is a card of healing and deep recognition. It is a healing energy that suggests you have entered the process of moving closer to your own truth through letting go of past hurts or traumas.
Perhaps you are at the beginning of this journey, or you may be nearing the end. No matter. This is a time to reclaim your power by recognizing that external circumstances do not control how you choose to view the world. You do.
Make peace with the experience you need to confront. You may release anger followed by gratitude for the lesson, or simply look on this thing for the first time in a long time.
It is asking to be seen, and once acknowledged, this darkness will be transformed and released. It is a gift.
---
Pile Three
Forgiveness
"Is your mind spending more time stuck and spinning in conflicts rather than creating opportunity?"
This is a card of self-love. If you are able to forgive yourself you will open up the door to be more focused and conscious in your own life.
It is a time for internal work, the work of finding peace and recognizing that it's always within your power to receive.
Perhaps you are carrying an external burden, a painful interaction, for example.
Self-forgiveness will allow you to expand, allow love, and extend that love to others. Especially those you may be harbouring a grudge against. It is in offering the forgiveness that you find your own peace.
---
Links to all the things:
---